Dhoni Retires from Test Cricket , Virat will be Captain
Dhoni Retires from Test Cricket , Virat will be Captain
M.S Dhoni the captain of India retires from the Test Cricket . BCCI as accepted the decision of Dhoni Retirement as posted a media release in the BCCI.TV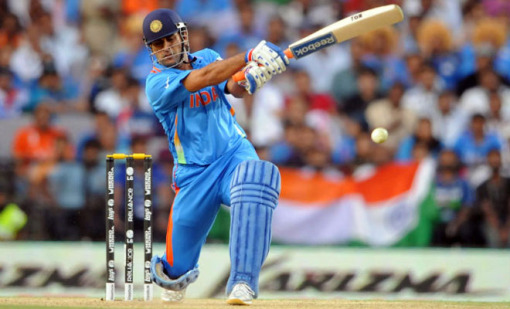 One of the top most batsman and wicket keeper as retired from the test cricket game  to concentrate on short formats of the game .
Today after the Test Match BCCi released the press Note .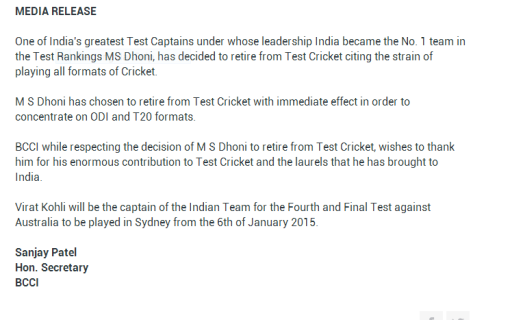 BCCI said taht Virat will be Captain for the upcoming Test match at Sydney against Australia .
M.S.Dhoni Quits from Test Cricket , Virat will be Captain
M.S Dhoni Batting Statistics

M.S Dhoni Bowling Statistics

There is a biopic which named Dhoni the untold story filming in Bollywood .  He made his One Day International (ODI) debut in December 2004 against Bangladesh, and played his first Test a year later against Sri Lanka.
Team India however managed to draw the Melbourne Test before Dhoni retirement .
Mahendra Singh Dhoni scored 5 Centuries and a Double century and he is one of the most successful captains on India and also a wicket keeping batsman for India .
World Cup 2015 which is to start early 2015 and Dhoni will lead the side .
We Thank Dhoni for all Test Records for India and placing India Number one test cricket side .
M.S Dhoni will continue as the Captain  Twenty 20 and One Day International formats of the Game .
For more cricket updates please stay tuned to our website