Movie Moghul Daggubati Ramanaidu Passed Away:
Movie Moghul Daggubati Ramanaidu passed away due to health problems. He was Guinness book of world records for producing more films as sole producer and in all Indian languages. He produced totally 150 Films in 13 Languages. His son Venkatesh announced that Ramanaidu died at 2:30 afternoon.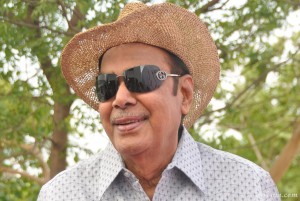 Telugu Producer Ramanaidu Passes Away:
Ramanaidu Born on 6th June 1936 in karamchedu located in Prakasham District. Earlier he was a farmer and Rice business. Then with his own interest he came into industry and produced more films that was proud for Telugu Industry.
Ramanaidu has two sons and one daughter. His apex son Suresh Daggubati is presently running Suresh productions successfully and another son Venkatesh was famous Actor from south side in Telugu as Hero.
Ramanaidu started Suresh Productions in 1964 after bifurcation with his friend G. Rajendra Prasad and Subba Rao. He got a huge victories in his life but in 1970s time he suffered with many failures and losses but after incredible hit with Premnagar starring Akkineni Nageshwara Rao and Vani Shree then he never turned back. In that situation if Premnagar movie gave a flop he would continue as farmer and business in Karamchedu. His grandsons Rana Daggubati and Naga Chaitanya are also active as actors in Tollywood.
Ramanidu also contested as M.P from Bapatla Constituency in Guntur District from 1999-2004. He lost elections in 2004 and never participated again.
Awards:
Padma Bhushan Award in 2012
Dada Saheb Phalke Award in 2009
Filmfare awards for three times
National Film award for Best Feature in 1999
Preminchu movie won 5 Nandi Awards in 2001-2002