Chhattisgarh renames Valentine Day as 'Matru-Pitru Diwas':
As many knows that this February 7 to February 14th is Valentine weekend for all people. In the whole it celebrates as a symbol of love. But in India particularly in Chhattisgarh is different and the officials say that the Valentine day on 14th February now celebrated as "Matru Pitru Diwas" or "Parents worship Day" in every year.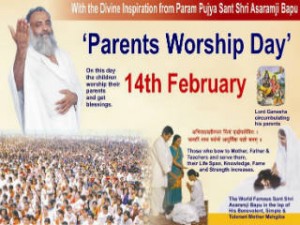 It's official: Chhattisgarh renames V-Day as 'Matru-Pitru Diwas':
Raman Singh Government passed this regulation to Public schools and educational institutions and everywhere. There is expectance of parents day celebrated in the place of other event from now in their state so that no other circulars may not pass. Earlier this proposal was made by Asaram Bapu who was now facing illegal issues against him. Asaram Bapu made submission for this idea to the chief minister of Chhattisgarh.
Hindu Mahasabha also quoted to celebrate Mata Pita Puja Diwas on Valentine's Day but this statement has failed to get response in public. As many people knows that if any couple or any pair commemorating Valentine's Day in public will be married off.
Interesting Facts About Valentine's Day:
From February 7th the Valentine week starts
February 7th as Rose Day
February 8th as Propose Day
February 9th as Chocolate Day
February 10th as Teddy Day
February 11th as Promise Day
February 12th as Hug Day
February 13th as Kiss Day
February 14th as Valentine Day