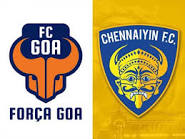 CHENNIYANFC  emerged the winners defeating FC GOA with a  goal difference of one(2-1).This was a thrilling encounter as the match went down to the wire and there were many match winning moments as their marquee player  Robert Pires  made some crucial interceptions. But, ultimately the Chennai club emerged  victorious.
It was Goa on the go first but were countered well by the chennai  and  the Indians inchenniyan club were up to the task as they utilised the experience of the internationals.
Even though Chennai had a clear lead in the first half the Goa's forward's were not down as they continued their attack and at one stage from (74′ to 77′) it was only corners to Goa that shows their domination. Chennai made use of two chances that came their way.
INDIANS SHINING BRIGHT:
BALWANTH: This Indian made history as he became the first Indian goal scorer in ISL-2014.The Indian from Punjab  was attacking from the left corner and was very rapid in moving from corner to corner. He just was everywhere and is definitely a player to watch out for.
HOLICHARAN NAZARY: He played a very vital role for FC GOA as his interceptions were impressive and  his efforts were appreciable as he kept on attacking and trying to break through the defence of  CHENNAI.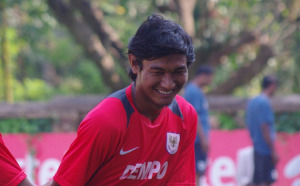 NARAYAN DAS: He was the most agile player and he was awesome with the ball whenever he had the ball he made interceptions and made Chennai defenders work hard.
INTERNATIONAL STARS:
ROBERT PIRES: The France international was on the move. Every time the  he had  the ball  he had some crucial interceptions and proved the worth as Marquee player.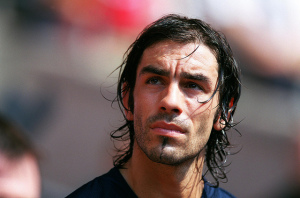 SYLVESTER:  He was always there for Chennai at the defence and every time Goa made interceptions it was this International who made great defensive work.
HIGHLIGHTS OF THE MATCH:
5:25 – Goa almost score a goal.(0-0)
6:01 – Goa advance again Pires makes interception but Goa fail again.(0-0)
16:00 – Chennai miss a close one.(0-0)
32:00 – GOAL!!!!.BALWANT take a bow. An awesome ball play and he becomes first Indian to score in  ISL-2014.(2-0)
41:52 – GOAL!!!!! .Chennai again make a goal. ELANO directs a corner into an awesome goal.(2-0)
47:00 – Goa miss again. Awesome bit of defence from Chennai.(2-0)
61:02 – Nazary goes for self glory with three players waiting his shot from left corner was way off target.(2-0)
65:20 – GOAL!!!!! . GREGORY  for Goa. An awesome combinational goal the two central defenders for Goa advance and make it a goal.(2-1)
76:30 – SAVE!!!!! . An awesome bit of goal keeping .
MOMENT OF THE MATCH:
Martins fails to utilise an interception and Goa miss the chance of making it equal. This is the first away win for any team in ISL-2014.
HERO OF THE MATCH: BALWANTH SINGH