Bangalore IED blast: One dead, one injured at Church Street
Bangalore IED blast: One dead, one injured at Church Street
In a bomb explosion on Church Street outside the Coconut Groove restaurant at 20:30 on Sunday night, a woman was seriously injured and two others were injured, and all three were taken to  nearby hospital Mallya said the Bangalore police Commissioner MN Reddi.
The woman was identified as Bhavani and her condition was described as "critical" by official Mallya Hospital. A good Samaritan auto driver by name Dasarath said News9 local television that he heard the explosion as a pirate Diwali and realize that it was a serious bomb explosion, rushed to his car and injured woman his parents and took them immediately to the Mallya hospital.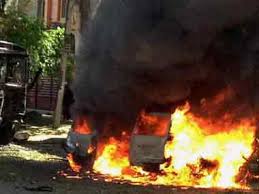 The bomb exploded outside Coconut Groove restaurant at 20:30. The police commissioner described the bomb as an explosion of low intensity and said precautions are taken to bring the situation under control Sunday evening usually see more visitors to the popular Church Street behind the MG Road in Bangalore .
Bangalore IED blast: One dead, one injured at Church Street
Meanwhile, Bangalore police have warned people to be vigilant and not to believe the rumors. In a tweet, the deputy police commissioner -Crime, Bangalore City, said: "Please do not panic and do not believe the rumours'. Call 100 in case of any doubt. Bengaluru City police obtained the region and an investigation is. "[email protected]_abhei.
Forensic teams and Cobra team were dispatched to Church Street, all cars have been deleted or moved out of the street. Union Minister and former CM DV Sandanada Gowda, who happened to be in Bangalore, rushed to the place and gave an interview to News9 saying that the situation is under control.