Australian Open Title 2015:
Australian Open came to climax scene Andy Murray and Novak Djokovic were decide the winner in today fight for Championship. It could be a great entertaining day for tennis fans with this battle for grand slam.
Novak Djokovic and Andy Murray Records in Australian Open Title:
Novak Djokovic who won seven grand slam titles in his career. This world No.1 has won four Australian open titles in his career. He also won two Wimbledon titles and one us open. Djokovic won consecutively in Australian open title from 2011 to 2013. But in 2014 he fell against Wawrinka in Semi Finals. He has an impressive record of holding 14 consecutive semi Finals in Grand slam.
Andy Murray beats Berdych in Semifinals to get through finals with 6-0, 6-3, and 7-5 on January 29th 2015. Scottish tennis player has managed to win only two grand slam titles are one is Wimbledon in 2013 and US Open in 2012. Murray also win prestigious Olympic Gold medal in 2012 Olympics against Roger Federer. After that Murray failed to continue his consistency in winning.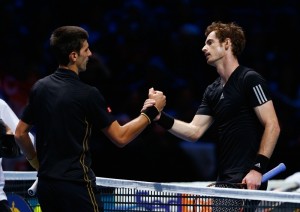 Till now Murray and Djokovic have met 23 times with Djokovic leading 15-8. The two players are almost same age and Djokovic was one younger than Murray. They are the best friends in tennis. Murray gone through finals for three times in 2010, 2011 and 2013. This time 2015 is fourth time entry to finals and waiting life first Australian Open in his career.
Australian Open Title Men's Singles Winner 2015:
This Duo has met in other tournaments too. But recent record was favour to Djokovic won five of their six recent meetings. This pair played a long Australian open semifinal match for five hours and finally Djokovic won the final set and got through finals.
The match has a huge expectations and this time it could be much entertaining this special players in particularly fighting in Australian Open gave much entertain to viewers.
Australian Open Title 2015:Novak Djokovic