Atletico de Kolkata 1st ISL Champions 2014|ISL 2014 won by Atletico de Kolkata
ISL( Indian Super League) was came to the end of their first season. At the beginning it has no expectations but when the franchises was own by all celebrities like Sachin Tendulkar, Sourav Ganguly, Abhishek Bachchan, Ranbir Kapoor, Jhon Abraham, Dhoni and others. The most of owners are mainly from Bollywood or from Cricket background. The owners have really shown their passion towards this Football league from the beginning of the tournament.
In the first season there are totally eight teams. They are,
Atletico de Kolkata(kolkota) owned by Sourav Ganguly, Atletico Madrid, Harshavardhan Neotia, Sanjiv Goenka, Utsav Prekh
Chennaiyin (Chennai) owned by Abhishek Bachchan, Vita Dani and M .S. Dhoni
FC Pune City (Pune) owned by Salman Khan, and Wadhawan Group
Mumbai City FC (Mumbai) owned by Ranbir Kapoor, Bimal Prekh
Kerala Blasters (Kochi) owned by Sachin Tendulkar, and PVP
Guwahati (North East United) owned by John Abraham, and Shillong Lajong
FC Goa owned by Dattaraj Salgaocar, Videocon Group and Dempo
Delhi Dynamos FC owned by DEN network
ISL 2014 won by Atletico de Kolkata
The League round was completed and then only four teams are through the Semi-finals. They are Goa, Kolkota, Chennai, and Kerala teams are fighted to go for the semifinals. But unfortunately the Goa and Chennai teams were out of the finals and Kolkota and Kerala are set to the finals.
The Kolkota team was inspired mostly by the Sourav Ganguly is most passion for football and even the player selection for his team was also very different and finally up to now it worked very good for the team. The team coach was Antonio Lopez Habas and he was an excellent coach that he was proved with the team performance. The players list of Kolkota team are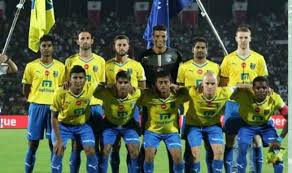 Subhasish Roy Chowdhury, Biswajit Saha, Nallappan Mohanraj, Kingshuk, Debnath, Arnab Mondal, Baljit Sahni, Cavin Lobo, Borja Fernandez, Fikru Teferra, Luis Garcis(Captain), Jofre, Denzil Franco, Basilio Agudo, Mohmmed Rafi, Sanju Pradhan, Climax Lawrence, Josemi, Mohammed Rafique, Mamunul Islam, Rakesh Masih, Jakub Pondany, Lester Fernandez, Ofentse Nato, Arnal, Apoula Edel, Sylvain Monsoreau.
In the above squad there are many good players especially, Luis Garcia, Jose Miguel , Subhasish Roy Chowdhury, and Denzil Franco players who strengthen the team.
Atletico de Kolkata 1st ISL Champions 2014|ISL 2014 won by Atletico de Kolkata
Kerala was different from kolkota and as it was looking hard for league tournament but after the half of the tournament it looks shines day by day match and it continued the journey to final. It was some what of even the spirit taken from the Sachin and even the supporters of their team. The team players are
Cedric Hengbart, Jamie McAllister, Ramandeep Singh, Nirmal chettri, Renedy Singh, Sushanth Mathew, Michael Chopra, Pedro Gusmao, Iain Hume, Ishfaq Ahmed, C.S. Sabeeth, Duleep menon, Mehtab Hossain, Sandesh Jhingan, Gurwinder singh, Penn Orji( Captain), Godwin Franco, Raphael Romey, Avinabo Bag, Sandip Nandy, Stephen Pearson, Andrew Barisic, Saumik Dey, Luis Barreto, Colin Falvey, Erwin Spitzner, David James, Vicor Pulga, Milagres Gonsalves
The team was being very much improved by the coaches David James, Trevor Morgan. The star players like David James and captain Penn should take very active part in this game.
The closing ceremony of ISL will be after 6:00 PM and the Final match between Atletico De Kolkata v/s Kerala Blasters will begin at 7:00 PM. It was almost between two cricketers who most like football after cricket. But the result will be very tough and it will also gives very good amazing game to the supporters and even this match was almost like between Sachin Tendulkar and Sourav Ganguly and who will win we have to wait for the result that took place at DY Patil Stadium, Navi Mumbai to become the first champion of ISL( Indian Football League).
**************Atletico de Kolkata 1st ISL Champions 2014 ***********
Congrats  Atletico de Kolkata …..