Aranmanai Movie Review and Rating:
Aranmanai Movie Review
Movie:Aranmanai
Director: Sundar C
Cast: Hansika, Vinay, Andrea, Sundar C
Music: Bharadwaj
Avg user rating:2.5/5
Horror comedies are a good genre to watch on the big screen, if packaged with the right ingredients and showcased in a decent manner. Sundar C does just that with Aranmanai, by picking a good script with a strong cast as the spearhead.
Though Aranmanai follows an already treaded path in terms of its screenplay, Sundar C manages to fit in the right elements to appeal to most sections of the audiences. There are cheap thrills, slapstick comics and women objectifications on one hand. But on the other, there are strong performances, appreciable commercial writing and some laugh worthy scenes with Santhanam at the centrestage. The best part of Aranmanai is the fact that it is a film with the female characters at the forefront, and the male ones underplaying themselves in the background.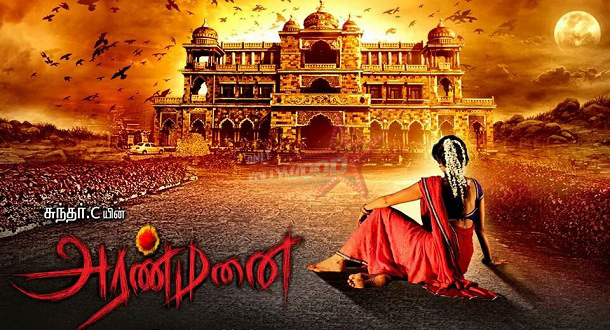 Sundar C does hold on to revenge as the central crux but yes, it is the way he puts things on screen which do the trick. After a wavered first half, the film turns well at the halfway mark and moves at a likable pace in the second. Belted with a standout performance from Hansika and a glamour bonanza from Rai Laxmi, Sundar C ropes in the right person in Andrea to play the matured role. Vinay and the director himself are just propellers in the story, nevertheless they have their own moments at the right times. The rest of the supporting cast are adequate, importantly Kovai Sarala and Manobala who bring the roof down along with Santhanam.
Technically, Aranmanai just passes muster with average cinematography and fine editing. The VFX is an eyesore, resulting in a big setback to the film. Bharadwaj's music too, mars the effect that Sundar C has created with his colorful picturizatons. However, his re recording is acceptable with the usual ooohs and aaahs.
On the whole, Aranmanai might not scare you much. Nor does it have something out of the box. But it successfully sets out doing what it intended to. The three girls in the movie might just be the icing on the cake. Go for this one if you liked the last flick in the genre – Yaamiruka Bayamey.

Analysis:
Aranmanai appears to be another winner, joining the bandwagon of horror-comedy films including Chandramukhi, Knachana, Pizza, Yaamirukka Bayamey and others.
Equally entertaining and scary, first half of Aranmanai is well carried by the comedy by Kovai Sarala, Manobala, Santhanam and Raai Lakshmi till Hansika entered before interval. Equalling the screen time and justifying the characters importance Sundar C, Hansika and Andrea takes care of the remaining half, while Vinay Rai justifies his role.
Though Hansika played the lead role as 'Pei', Raai Lakshmi scores more attention in the movie.