The new iPhone6 and iPhone6 Plus sold at a record pace with more than 4 million pre orders selling in the first 24 hours, Apple Inc. reported Monday.
Demand outstripped supply, and many phones will be shipped in October instead of September, as initially stated. Apple's initial launch weekend sales figures may be held back by supply rather than demand, Apple Insider reported.
The "iPhone 6 and iPhone 6 Plus are better in every way, and we are thrilled customers love them as much as we do," said Tim Cook, Apple's CEO said Monday on the Apple Insider site.
"Pre-orders for iPhone 6 and iPhone 6 Plus set a new record for Apple, and we can't wait to get our best iPhones yet into the hands of customers starting this Friday."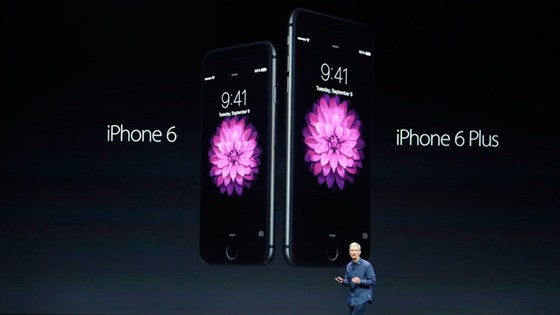 As of Monday morning, the 4.7-inch iPhone 6 was advertised to ship within seven to 10 business days, while the 5.5-inch iPhone 6 Plus was expected to ship in three to four weeks.
On Friday Sept. 19, the iPhone 6 and iPhone 6 Plus will be available at retail stores at 8 a.m. local time. Instead of battling potentially long lines, consumers can preorder the phones directly from Apple's online store or through the Apple Store App.
Last year, Apple sold 9 million iPhone 5s and iPhone 5c units in the launch weekend. In 2012, Apple sold 5 million iPhone 5 units during the debut weekend, Apple Insider said.
According to Apple Insider, when the iPhone 6 and iPhone 6 Plus become available this Friday, additional phones will be available at Apple Stores and other retail partners for walk-in customers.
The handset arrives first in the U.S., Australia, Canada, France, Germany, Hong Kong, Japan, Puerto Rico, Singapore and the U.K.,according to the site.
Apple also announced on Monday that 20 additional countries will get the iPhone 6 starting the following Friday, Sept. 26. They include Austria, Belgium, Denmark, Finland, Ireland, Isle of Man, Italy, Liechtenstein, Luxembourg, Netherlands, New Zealand, Norway, Portugal, Qatar, Russia, Saudi Arabia, Spain, Sweden, Switzerland, Taiwan, Turkey and United Arab Emirates.
Apple Insider said that demand was so strong that Apple and its carrier partners' websites experienced a number of problems accepting customer orders. Such issues have occurred every year since the first iPhone launched in 2007, with demand for Apple's latest models only growing each year.