Anushka Sharma First Look in Bombay Velvet:
One of high expectations movie of the year is Bombay Velvet starring Ranbir Kapoor and Anushka Sharma directed by Anurag Kashyap. The movie unit released the first look of Anushka Sharma in Bombay Velvet. The poster looks playing character of singer named Rosie and got recognize in Bombay Velvet Club and Ranbir is playing Johnny Balraj the character who falls love with singer Rosie.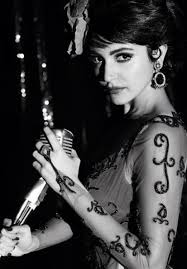 In first look the story is a bit of old type and the costume looks different. Anurag Kahsyap announced this movie and the movie seems like 1960s to 1970s look.
Bombay Velvet Movie details:
Bombay Velvet Movie Cast and Crew:
Director: Anurag Kashyap
Producer: Vikramaditya Motwane, Anurag kashyap, Vikas Bahl, Vivek B Agarwal, Madhu Mantena and others
Screenplay: Anurag kashyap, Karan Johar, Vikramaditya Motwane
Cast: Ranbir Kapoor, Anushka Sharma, karan Johar, Raveen Tandon, Siddharth Basu, Kay kay Menon and others.
Music: Amit Trivedi
Cinematography: Rajeev Ravi
Editor: Prerna Saigal, Vikas Bahl, Thelma Schoonmaker
Production Company: Phantoms Films, Fox Star Studios
Anushka Sharma is playing role as a Jazz Singer and Ranbir Kapoor as boxer/ Street-fighter. Anurag Kashyap veteran director inspired from reading L. A. Quartet a sequence of four crime fiction novels by James Ellroy.
The movie is still going shooting and the movie was planning to launch in the summer of 2015.