Amitabh Bachchan and ShahRukh Khan inaugurate Kolkata Museum
Mother's wax museum inaugurated by Amitabh Bachchan & Shah Rukh Khan
Featuring life like wax statues of celebrities and icons, the mother's wax museum was today inaugurated by Amitabh Bachachan Shah Rukh Khan both of whom who got wax statues at Madame thussads in london.
The museum in kolkata currently features 19 statues of varied personalities covering lot different sectors. Like film stars Uttam kumar, Suchitra sen, Amitabh Bachchan, Shah Rukh Khan andnational icons like Rbindranath Tagore, Nethaji Subhash Chandra Bose. Kazi Nazrul Islam, Sir Jagadish Chandra Bose, Sri Ramakrishna paramahamsa, Swami Vivekananda and sports personalities like Saurav Ganguly and Kapil dev.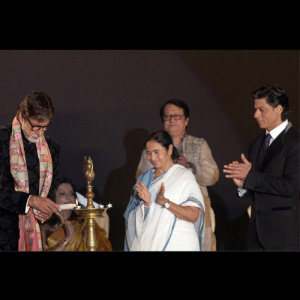 This seems didi planned on portraying the Westbengal's icons more than other states personalities. Ignoring sachin's wax statue and preferring for Ganguly  can say it all.
The Mother's Wax Museum pays homage to ultimate icons of INDIA. It will be a special attraction for both tourists and locale. And Kolkata will be on long way in developing Rajarhat as a holistic destination for both work and leisure says didi Mamata Benerjee
Kolkata Wax Museum
The Museum is developed by WBHIDCO. And it's on the sixth floor of the New Town Financial Hub at Rajarhat. Which is opposite to Eco-Tourism Park. And the visitors will be able to hear the narrations of the achievements of each icon whose statue is exhibited.
Visitors are allowed to take numerous selfies with their favourite icons or in specially constructed photo booths that protrays different facets of the city.
The wax statues has been sculpted by SUSANTA ROY, veteran wax sculptor based in Burdwan town. India got a lot of talented persons whom are ignored by foreigners. Coz of their pride. This is an initiative done by didi we should appreciate that. Many social workers many ingenious people were kept aside due to no publicity. So, it's an initiative.