Abhinetri movie Review and Rating Public Talk
Abhinetri movie Review and Rating Public Talk
The most controversial Kannada movie Abhinetri is going to hit theatres today. Before knowing about why the movie is a must watch, let's take a look at the production team.
Cast: Pooja Gandhi, Makarand Deshpande,Srinagar Kitty,Atul Kulkarni,P. Ravi Shankar,Neethu
Director: Satish Pradha
Producer: B. S. Vyjayanthi, Pooja Gandhi
Music: Mano Murthy
Cinematography: K. S. Chandrasekhar
Edited: K. M.Prakash
Production Company: Pooja Productions
Release Date: 30 January 2015
Certificate: U/A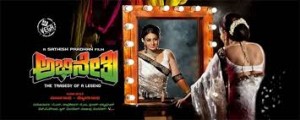 Here's why the movie is a must watch
The film is based on the life of the actress Kalpana. Pooja  Gandhi Trials role of old Kannada actress in the film. The actor looked Kannada films like Kalpana  Eradu  Kanasu, Belli Moda, Gejje Pooje, Kappu Bilupu and Sharapanjara, for his manners and body language right.The director also interacted with many senior Kannada actors who had worked with Kalpana to obtain input and feedback on the minugu  taare.
The film got a U / A certificate by the Censor Board who led policymakers to change two scenes and mute 11 dialogues in the film.
More about Abhinetri movie Review and Rating Public Talk
Review and Rating:
According to the first printing reports arrive; the film so far has opened with a bang. Pooja Gandhi agrees precisely the role of yesteryear actress Kalpana. His manners are quite like the Kannada actress. The rights of the film satellites were bought by Zee Kannada
Rating: coming soon
Abhinetri movie Trailer
Controversies:
The film was supposed to happen in June last year. However,a plagiarism lawsuit against the makers of the film to delayed . Bhagya Krishna Murthy,a  Bangalore novelist alleged  that the plot was copied from his book Abhinetriya Antaranga which was published in the magazine Mangala Kannada. However, she lost the case.
Then it was the turn of the Kannada film director Puttanna Kanagal family complain saying that Puttanna was shown in the bad light in Abhinetri which Satish Pradhan is denied.