The Mumbai attacks are planned by Pakistan terrorists Lashkar-e-Taiba  terrorists. The attacks are carried out by the ten young armed persons under the direction of Lashkar -e –Taiba  terrorists. The directions are carried out via mobile phones .The attacks were commenced from 26 November to 29 November .The attack continued for 3 days straightly .The attacks began on Wednesday ,26 November and ended on Saturday, 29 November .The attack killed 164 people and wounded more than 300 people.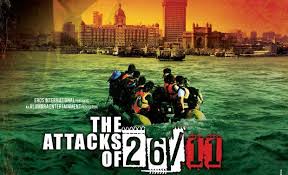 2008 Mumbai Attacks:
The event was occurred around 20:00 clock on 26 November .Then 10 men came in a inflatable speedboats across two seashores located in Colaba .The attacks were occurred at different     places .
26/11  Attack Video Footage
Chatrapathi Shivaji Terminus:
The Chatrapathi Shivaji Terminus was firstly attacked by two gunman, one of them was Ajmal Kasab, who was later caught by the police alive .The attack began over 21:30 by firing using AK- 47 rifles.