June 19, 2015
krishnamma kalipindi iddarini(2015) movie review & rating- sudheer
krishnamma kalipindi iddarini(2015) movie review & rating:
| | |
| --- | --- |
| Directed by | R. Chandru |
| Produced by | Sridhar Lagadapati |
| Starring | Sudheer Babu, Nanditha Raj |
| Music by | Hari |
| Cinematography | K S Chandra Sekhar |
| Edited by | Ramesh Kolluri |
| Distributed by | Ram Lakshmi Cine Creations |
| Release dates | 2015 |
| Country | India |
| Language | Telugu |
krishnamma kalipindi iddarini movie review and rating:
Krishnamma Kalipindi Iddarini is a Telugu Romance movie which is directed by R.Chandru produced by Sridhar Lagadapati. This movie stars Sudheer Babu, and Nanditha Raj in the main leading roles. Music was composed by Hari. This movie is the remake of super hit Kannada movie Charminar also directed by R.Chandru.
Sudheer Babu
Nanditha Raj
Saptagiri
M.S. Narayana
krishnamma kalipindi iddarini movie public talk:
This movie is the remake of the hit Kannada film – Charminar. This is the journey of love of a young boy. This movie shows how love can inspire and aspire to be the best and give the best to the loved ones. A very youthful and musical entertainer to fill your hearts with joy. A timeless tale of true love. Come, experience the roller-coaster ride of LOVE. (Lots Of Varying Emotions).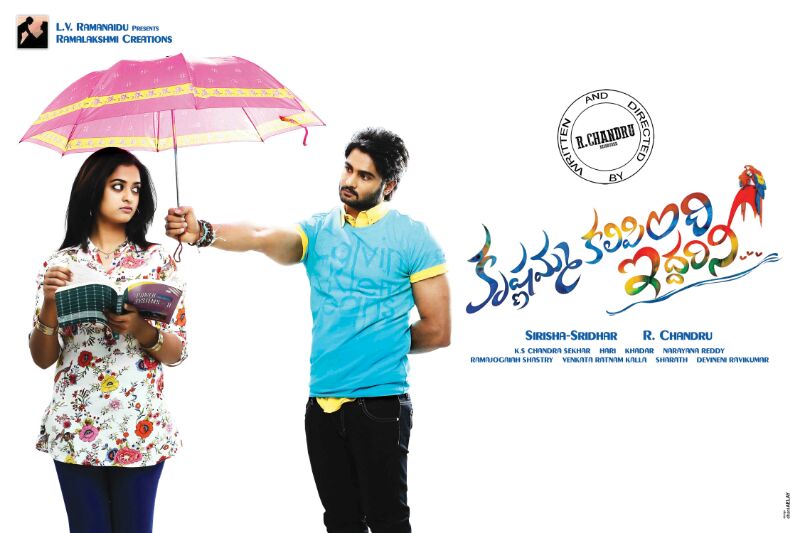 Lagadapati Sridhar decided to remake the Kannada movie Charminar in Telugu after he was impressed with the film.Chandru and Hari who were part of Kannada original was chosen to direct and compose music for this version thus making their debuts in Telugu films. Hero Sudheer Babu and Nanditha who earlier paired in Prema Katha Chitram (2013) were chosen for the film. Makers have modified the premise of the film in Telugu version to suit Krishna river.
The music had been composed by Hari. There are a total of 6 songs.
01 – Veelunte – Nakul Abhyankar
02 – Radhe Radhe – Haricharan
03 – Ola Ola – Hari, Hema Chandra
04 – Madana Mohana – Pravani, S.P.Charan
05 – Tuhi Tuhi – Haricharan, Sunil Kashyap, Lipsika
06 – Naalo Premey – Hari
About Author
vivekreddychanti