Dangerous hurricane named HUDHUD  is moving rapidly towards the coastal areas raised in the Bay of Bengal cyclonic woodpecker . The storm must be hitting the coastal areas of Andhra Pradesh today. Before arriving in Andhra woodpecker has become the ragged storm. Visakhapatnam, Andhra Pradesh and Orissa, including this impact of the cyclonic storm rain in the coastal areas has already begun.
NDRF handled by the Front
Experts say that the green peak of the storm, more than 160 170 kilometers per hour is pulled. And today when it hit the coast at a speed of 180 kilometers per hour could reach. The administration is trying to reach people safe places. All three limbs and NDRF team has cudgels. That's why everyone is trying to minimize the loss of life and property. Given the storm nearly 52 trains have been canceled.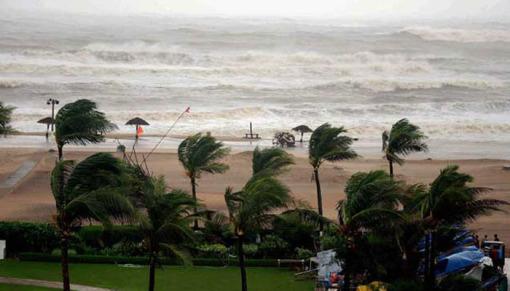 Affects 356 villages
The storm Visakhapatnam, Andhra Pradesh, East Godavari, Srikakulam and Vizianagaram districts will have the most impact of this cyclone this  would affect nearly 356 villages. More than half a million people in Andhra Pradesh has been shifted to safer places. 370 relief camps to deal with the storm have been provided. Andhra Pradesh and Orissa in addition to 24 to 18 teams of NDRF have been deployed.
Preparation of rescue relief
Visakhapatnam and Srikakulam power boat in the Navy and Coast Guard personnel deployed with the Navy's eastern core Halvishakhapattnm 4 are ready to ship relief and rescue work. 6 helicopters stationed at Visakhapatnam Naval Base are deployed. Army helicopters will be additional help if needed. Sensitive areas to maintain communication administration has provided 15 satellite phones. All essential food items such as rice, pulses, oil Vgrh the arrangements have been completed.