August 9, 2015
Behind Bajrangi Bhaijaan's bold narrative
Kabir Khan says directors must push boundaries:
Despite the political relevance and social gravity of the theme, artists and film-makers in India "don't think, talk or do much" about protecting secularism, laments Kabir Khan, director of the Salman Khan-starrer Bajrangi Bhaijaan (BB)."Culture, identity and secularism are something I feel very strongly about. I feel that is one of the biggest problems in the country. People talk about development and progress … But the secular fabric of our country is really in a dangerous situation. That is something we sometimes neglect. We don't think, talk or do enough about protecting that," Mr. Khan said.In mainstream film-making, with very few directors venturing into political themes, Mr. Khan has proven to be an ace. He started out with his mainstream film Kabul Express. BB has not only become the second highest grosser (crossing Rs. 300 crore) in the country after PK, it has also received immense critical acclaim — mainly for its political boldness and sensitive portrayal of India-Pakistan relations, which are often submerged in jingoistic narratives.In a free-wheeling interview to The Hindu, Mr. Khan discusses his journalistic style of film-making, with immense focus on research and travelling, the relevance of his strong documentary background, and his drive to push the boundaries when it comes to political narratives.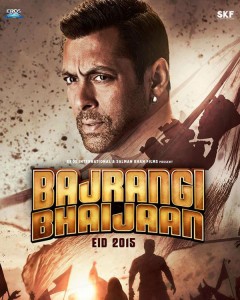 A graduate of Delhi University's Kirori Mal College, Mr. Khan started out as a documentary film-maker and has travelled over 60 countries, mainly researching international and national politics. It's no surprise his mainstream films have also largely revolved around secularism, terrorism and Islamophobia, all contentious subjects rarely touched by mainstream film-makers.Mr. Khan believes the audience today is receptive to political films, even on contentious issues, and the onus is on the directors to "keep pushing the boundaries". He laments that unlike the 1960s' directors, today's directors refrain from making films on overtly political themes. "PK and Bajrangi are both challenging the comfortable social narrative. If they are doing so well, that goes to show there is space for such films … When you are Salman Khan, you don't need to play safe," he said.BB opened to a lot of protests with the Vishwa Hindu Parishad calling for a ban on the film calling its title "blasphemous". However, Mr. Khan says the essence of the film is its title, from both perspectives [Indian and Pakistani] and he would not allow any organization to appropriate the image of Lord Hanuman. "I realise that when you say 'Bajrangi', unfortunately, because of [2002 Gujarat riots convict] Babu Bajrangi, it has developed a negative connotation [for Pakistanis]. But I ask, should we let them [VHP] appropriate this name forever?""For me, as a child, Lord Hanuman was always the epitome of fun. Why are we letting them take away this god forever from us? He doesn't really belong to one religion, he is part of our ethos. I remember playing Hanuman in my school plays," he said.